Take A Romantic Day Trip To Carmel
Spend a romantic day for two, or spend a night in this quaint California town.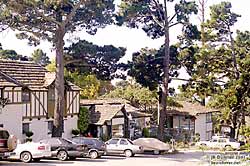 Once you've experienced the serenity and quiet beauty of this seaside town, you may never leave. Carmel is one of our top picks for best secret romantic destinations in the world. Set on gently rising headlands above a sculpted rocky shore of the Monterey Peninsula, Carmel is a quaint town confined to a few neat rows of unique shops and miniture homes running along either side of Ocean Avenue. With numerous art galleries, bistros, and guesthouses, you could spend an entire afternoon wandering around town with an old-fashioned cinnamon bun and coffee that is served up at The Carmel Bakery. Outside of town, unspoiled California central coastline awaits, with the beautiful Carmel Beach, or head inland to the Carmel Valley Village, where you will find yourself at the epicenter of Monterey County's wine country.

Travelling To Carmel
Best travel into Carmel is by car, and is easily accessible from
San Francisco
to the North and from
Los Angeles
to the south. The scenic drive up
Pacific Highway 1
off of Highway 101 (if coming from Los Angeles) along the coastline offers many stunning views of the Pacific Ocean. Probably one of the best drives that we have ever been on, coming from the south you will pass through the spectacular coastline of
Big Sur
.
The 17 Mile Drive is not to be missed. Winding your way through dense forest and the coastline, you will have plenty of romantic scenic viewpoints to scan the horizon. Grey whales, sea lions, and other sea creatures inhabit the emerald blue waters here, and with the small fee of $8, the drive is truely worth it. A quick tip, your gate fee will be waived if you have a meal at Roy's in downtown Carmel.
---
Romantic Places To See In Carmel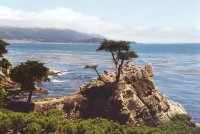 Carmel's town center is 15 minutes south of
Monterey
, and here you'll find largely designer-shopping malls such as the
Carmel Plaza Mall
at Ocean Avenue. Even if shopping is not high on your list of things to do, it is still worth some of your time to simply window shop at some of the notable stores here, including
Saks Fifth Avenue
, and
Louis Vuitton
. Art galleries seem to be around every corner in town, and you will find many different styles of galleries to explore. To get a lowdown on the 100's of galleries found in Carmel, check out the free and widely available
Carmel Gallery Guide
.

We find Carmel's best feature to be it's largely untouched nearby coastline, which is among the most beautiful in all of California. Carmel Beach is a nice tranquil cove of emerald blue water that is bordered by soft white sand and towering cliffs. The tides are deceptively strong and dangerous, so instead of taking your chances with a swim in the ocean, grab some groceries at one of the markets in town and come here for a picnic lunch or dinner.
A mile south of Carmel Beach along Carmel Bay, you will find Tor House. A poet named Robinson Jeffers built the small cottage and adjacent tower by hand out of granite boulders in 1919. There are guided tours every hour of the house and the surrounding gardens, but beware that most of the tour is about the poetic works of the writer's life. The entrance can be found at 26304 Ocean Avenue.
A nice safe and warm swim in a freshwater lagoon can be found a quarter of a mile up along Scenic Road around the tip of Carmel Point. Here you will find the less visited mile-long Carmel River State Beach, and it also includes a bird sanctuary.
Another 3 miles south along Highway-1 is the Point Lobos State Reserve. The reserve claims it's "the greatest meeting of land and water in the world", and we think it has plenty of natural justification to support this. There are several hiking trails in the area, and along with over 250 different species of birds and animals, the reserve is truely an amazing place to spend the day.
Because the point juts so far out into the ocean, there are some of the earth's best undisturbed views of the ocean. Make sure to snap a memorable photograph of yourselves here. There are many vantage points along the park's coastal trail too, and in the distance you can sometimes see gray whales offshore, getting as close as 100 yards away. A worthwhile guide map is included in the admission fee to the reserve, which will run you $4.
---
Romantic Sunset Views At Carmel Beach

One of the most popular activities in Carmel is watching the sunset on Carmel Beach. This large, white sandy beach is the perfect setting for watching the sun slip under the horizon with
Pebble Beach
to your right and
Pt. Lobos State Reserve
to your left. You can build a
bonfire
south of 10th street or hire a company like
Romantic Room Designs
to do it for you. Not only will you have the bonfire, but they supply food and flowers for your sunset watching experience. Ask for their
Sunset Bonfire Package
. Truely a romantic thing to do for two!
This is also a very romantic place to propose to your loved one. Romantic Room Designs also offers a Carmel Beach Sunset Proposal Package, and they come up with unique and creative ways in which to propose. A big part of a wonderful proposal memory is the setting. And what better image to leave an impression than a big orange sun dropping under the horizon, views of Pt. Lobos and Pebble Beach and a large bonfire and comfy blanket to keep you warm. Add a bottle of champagne to continue the celebration afterwards.
---
More Romantic Places & Actitivies In Carmel

Carmel Valley Village
is about 15 miles inland, follow
Route G16
east. Here the weather is a bit more predictable and warmer, as there is no steady Pacific Ocean breeze. You will now find yourself in the middle of Monterey County's Wine Country, with a cluster of vineyards scattered through the region, some stretching as far as
King City
. In the
Carmel Valley
that surrounds the village, you'll find many quaint vineyards that are well known for their red wines. Many wineries offer daily tours and tastings for a modest price, and you will be able to find many shopping and fine dining possibilies here. For a detailed map and tourist guide of the area, any visitor's center in Monterey County offers the
Monterey County Vintners & Growers Association
map.
There are many quaint inns and hotels located in the Carmel area from which to choose for accommodations. La Playa is a Historic Hotel on the National Register where you will find beautiful grounds full of lush landscapes and flowers. Other romantic hotels include the historic Pine Inn on Ocean Avenue, Normandy Inn and Carriage House Inn. There are also a wide variety of romantic B&B's to choose from in Carmel. Vagabond's House Inn, Carmel Country Inn, Cobblestone Inn, and the Wayside Inn are just a few of the more popular B&B's to look into.
Restaurants such as Casanova, Little Napoli, Bouchee, the Village Corner, and Grasings are all favorites of Carmel locals and tourists alike. There are also several cute small cafes in which to enjoy an espresso including Cardinale and the Carmel Coffee Roasting Company. For a full list of the hundreds of dining options in the area, make sure to pick up a copy of the free, weekly magazine called Go! or Coast Weekly. If you're on a tight budget, the best dining options are on the north side of Monterey, along North Freemont Street, on and around Lighthouse Avenue.
For a truely romantic setting and fantastic views of the surrounding area, book a reservation at Pacific's Edge at the Park Hyatt Highlands Inn. It will not be the cheapest meal in Carmel, but it will be one of the more romantic and memorable ones.

Have a great romantic day trip or getaway in Carmel, one of the best secret romantic places in California
Disclaimer: We have attempted to ensure this website is as accurate as possible. However, Fantastic Romantic Vacations accepts no responsibility for any loss, injury or inconvenience sustained by anyone resulting from this information. You should verify important information regarding all travel documents, health and safety, customs, and transportation with the appropriate authorities and agents before you travel.